Estudio para una forma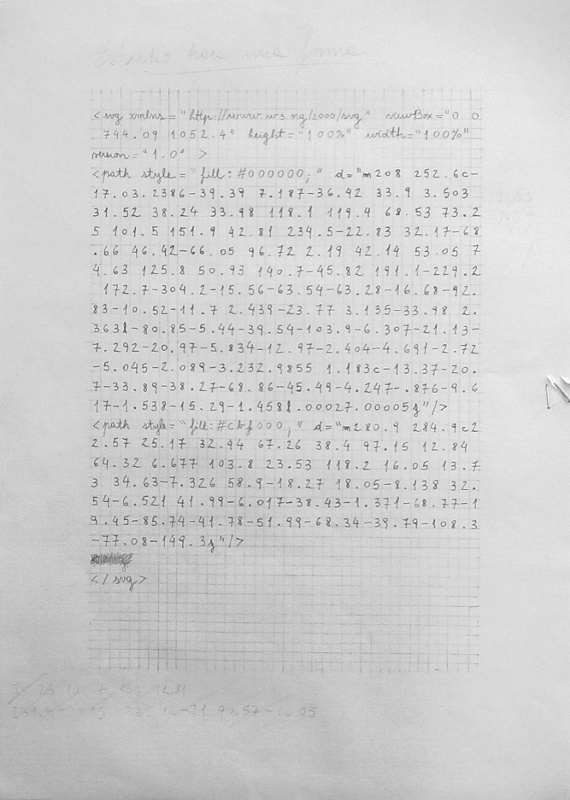 Lápiz sobre papel A3.
La obra consiste en un código .svg manuscrito.

Instrucciones:
- Abrir cualquier editor de texto sencillo.
- Transcribir el texto del estudio respetando cada uno de los caracteres y los espacios.
- Guardar el documento con la extensión .svg. (por ejemplo una_forma.svg) y comprobar que ha sido guardado con la extensión correcta.
- Abrir el documento en un navegador web.
..."En el primer capítulo de su Biblia se halla la sentencia famosa: "Y Dios dijo; sea la luz; y fue la luz"; los cabalistas razonaron que la virtud de esa orden del Señor procedió de las letras de las palabras. El tratado Sefer Yetsirah (Libro de la Formación), redactado en Siria o en Palestina hacia el siglo VI, revela que Jehová de los Ejércitos, Dios de Israel y Dios Todopoderoso, creó el universo mediante los números cardinales que van del uno al diez y las veintidós letras del alfabeto. Que los números sean instrumentos o elementos de la Creación es dogma de Pitágoras y de Jámblico; que las letras lo sean es claro indicio del nuevo culto de la escritura. El segundo párrafo del segundo capítulo reza: "Veintidós letras fundamentales: Dios las dibujó, las grabó, las combinó, las pesó, las permutó, y con ellas produjo todo lo que es y todo lo que será." Luego se revela qué letra tiene poder sobre el aire, y cuál sobre el agua, y cuál sobre el fuego, y cuál sobre la sabiduría, y cuál sobre la paz y cuál sobre la gracia, y cuál sobre el sueño, y cuál sobre la cólera, y cómo (por ejemplo) la letra kaf, que tiene poder sobre la vida, sirvió para formar el sol en el mundo, el miércoles en el año y la oreja izquierda en el cuerpo."
Jorge Luis Borges. "Del culto de los libros", Obras Completas I. Barcelona: RBA Coleccionables, SA. 2005. 1152 p. ISBN: 84-473-4505-X (O.C)

---
Study for a shape
Instructions:
1 - Write the text of the study in a basic text editor (eg gedit) respecting each of the characters and spaces
2 - Save the document as shape.svg
3 - Open the document in a web browser
..."The first chapter of the Jewish Bible contains the famous sentence: "And God said, Let there be light: and there was a light." The cabalists reasoned that the virtue of that command from the Lord proceeded from the letters of the words. The Sepher Yetzirah (Book of the Formation), written in Syria or Palestine around the sixth century, reveals that Jehovah of the Armies, God of Israel, and God Omnipotent created the universe by means of cardinal numbers that go from one to ten and the twenty-two letters of the alphabet. That numbers may be instruments or elements of the Creation is the dogma of Pythagoras and Iamblichus; that letters also may be used in the Creation is a clear indication of the new cult of writting. The second paragraph of the second chapter reads: "Twenty-two fundamental letters: God drew them, engraved them, combined them, weighed them, permuted them, and with them produced everything taht is and everything that will be." Then the book reveals wich letter has power over the air, wich over water, wich over fire, wich over fire, wich over wisdom, wich over peace, wich over grace, wich over sleep, wich over anger, and how (for example) the letter kaf, wich has power over life, was used to form the sun in the world, the day Wednesday in the year, and the left ear on the body."
Jorge Luis Borges. "Del culto de los libros", Obras Completas I. Barcelona: RBA Coleccionables, SA. 2005. 1152 p. ISBN: 84-473-4505-X (O.C)